Come and visit with our NVSR Shelties and volunteers at our events.
Scroll down to the bottom for photos of previous events.

---
We don't have any events planned right now, so we decided to leave here the cute photos of the Scottish Walk last December ...

December 2, 2017: Scottish Walk Parade, Old Town Alexandria VA

This annual parade through the streets of Old Town Alexandria is just too much fun. Shelties are Scottish dogs and very, very proud of it! They love the sound of bagpipes, and there are plenty of them in this parade. Lots of other Scottish dogs are also represented. Come and march with us or just come to watch. Hear the crowds 'way ahead, "Here they come ... the Shelteeeez!"

More info about the event and parade.

If you want to march with us, contact us for information about where we will gather pre-parade:

events@nvsr.org

.
---
Keep up with NVSR - Read The Sheltie Spin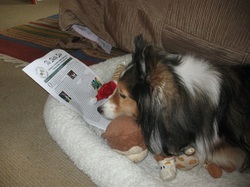 Anneka checks out an issue of The Sheltie Spin
---
---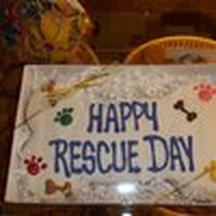 NVSR 2017 Annual Report
Click here to read the Annual Report for 2017.
NVSR continues to be in a good financial position ending 2017, and more dollars are coming in than are going out, which we sincerely appreciate. We are no longer included in CFC, the government payroll contribution plan, because we could not meet their requirements for a brick-and-mortar office. Those contributions have been more than made up via PayPal and monthly sustaining contributions. We have often spend thousands on one dog to bring him or her up to as healthy a condition as possible. One important surgery can cost $4,000 or much more. So please continue to help us. We appreciate every dollar we get - all used for the benefit of our Shelties.
---
---
2017 NVSR Picnic! A beautiful (but hot!) day with gorgeous Shelties and very enthusiastic humans!

September 23, 2017, was a memorable day of smiles, beautiful Shelties, and lots of happy folks at our annual picnic. We had 95 dogs (including a few Sheltie wannabes) and 144 adopters, volunteers, and friends help celebrate our 18th year rescuing our favorite dogs. We participated in very tempting silent auction and raffles, bought Sheltie goods including our 2018 calendar (see our Shop page to order yours), learned about Sheltie care, had their photos taken, ate lunch and treats, played games, watched agility demonstrations, had dogs microchipped, and - the best part - enjoyed our dogs and just being together. It was a good money-maker, too, which will help pay a LOT of vet bills for Shelties that need our help. Thank you, everyone! Below is a slideshow of photos of our memorable day together. And, here's a link to the ever-longer "Adopter Parade."
---