This page is all about our adoption process and expectations.

Our adoption application link is located at the bottom of this page. It's there because we want you to read this entire page before you decide to apply!


_
Adopting a Sheltie from NVSR
This page has five parts:
I.
The Adoption Process
II.
What We Expect from Adopters
III.
What Adopters Can Expect from Us
IV.
Adoption Fees
V.
Frequently Asked Questions
Please read all five parts carefully. If you decide to apply to adopt one of our Shelties, you will find a link to the application at the end of the page. If you have never lived with a Sheltie, please read the page About Shelties.
I.
The Adoption Process
We want the best possible homes for our Shelties, and we know you want a dog that is a great match for you. NVSR has a strong organizational structure designed to match the right dog with the right adopter. Here are the steps:
A. Potential adopter fills out application completely and e-mails it to
apply@nvsr.org
.
B. The application is reviewed by NVSR's Adoption Coordinator, who will contact applicant if there are any questions.
C. A volunteer schedules a home visit with the applicant if we have a dog that might match. At this visit, all family members and household pets must be present. The volunteer answers questions, shares information about Shelties, evaluates security of fencing, if any, looks for any dog hazards, checks number and steepness of stairs, and discusses Sheltie size, color, age, and temperament preferences the applicant may have.
D. Home visit volunteer calls all the applicant's references and files a home visit report with the Adoption Coordinator. This becomes part of the application. The Adoption Coordinator will reply to the applicant with information about acceptance and next steps.
E. Adoption Coordinator compiles a list of all approved adopters and sends it to all Foster Care Providers on a regular basis.
F. Each Foster Provider reviews applications and home visit reports and will contact an applicant who looks like a good match for that foster dog.
G. If an applicant is interested in the dog described by the foster provider, a meeting is arranged so the entire family can meet the dog—either at the foster home or the applicant's home. We are careful to show the dog where he/she is most comfortable.
H. If all parties agree that the match is a good one, an adoption contract is signed and the adoption fee is paid to NVSR.
I. Applicants may contact the Adoption Coordinator if they see a dog on our website that they are interested in meeting. That interest will then be communicated to the dog's Foster Provider.
II.
What We Expect From Adopters
A. We consider only applicants who want a Sheltie as a member of the family, meaning that the Sheltie will spend its time where the family is and not be kept outside or away from the family all the time.
B. We favor applicants with yards of secure, physical fencing for most (but not necessarily all) of our Shelties. However, for puppies and all young dogs, a fence is required. Some adult or senior dogs can do well in homes with no fenced yard if the family is willing to take the dog for frequent walks - on leash, of course.
C. We do NOT place dogs in homes with invisible, electronic, or electric fences or outdoor kennels.
D. We expect adopters to provide plenty of exercise and mental stimulation for a dog. Most Shelties are active dogs that need to run and play or have a "job"; they are not meant to be couch potatoes.
E. We do NOT place dogs in homes that have intact pets (unless the dog is being actively shown in conformation classes or there is a medical reason for remaining intact) or pets that are not up to date on vaccinations.
F. We are usually reluctant to place a rescued Sheltie in a family with children under the age of four or five. R
escue dogs often have difficult or completely unknown pasts, and we can't accept the risk that a child might be hurt. In addition, Shelties are herding dogs and may herd small children. We will consider placing a dog that we know loves children with a family with young children. Our foster process includes this evaluation.
G. Other requirements in our adoption contract include the following:
The dog may never be allowed off a leash outdoors unless it is in a secure, physically fenced area.
The dog must be kept on heartworm preventative year round.
The dog is never to be left outside when you are not home.
The dog must wear ID tags, including the NVSR ID tag, at all times.
If the dog cannot be kept for any reason, it must be returned to NVSR.
III.
What You Can Expect From Us
A. Every Sheltie that comes into NVSR is placed with an experienced Foster Provider for at least two weeks up to several months, depending on the dog's needs and issues.
B. While in foster care, the dog is carefully evaluated to determine any health or behavior problems.
C. By the time the dog is ready for adoption, it will have had all needed vet care at NVSR expense. The dog will be:
Spayed or neutered, unless it is a puppy less than six months of age. In that case, the puppy will be adopted with a spay/neuter contract. NVSR will pay for that surgery.

Up-to-date on rabies, distemper, parvo, and other appropriate vaccines.
Tested for heartworm, Lyme, ehrlichia, and various other parasites and, if positive, treated for any of these.
Provided with heartworm preventative.
Given a professional dental cleaning, if needed.
D. The dog will have been tested to determine how well it interacts with other dogs, cats, and children of various ages.
E. If the dog shows aggressive behavior or has a biting history, it will not be placed for adoption.
F. The dog will be given remedial housetraining, if needed.
G. The dog's foster provider will leash train it and provide a start on training in other basic commands. The adopter will receive a martingale collar and leash with the adopted dog.
H. As complete a medical history as possible will be given to adopter.
I. As complete an evaluation of the dog's temperament as possible will be given to adopter.
IV.
Adoption Fees
Young dogs up to and including 3 years old: $350
Adults 4-9 years old: $250
Senior Adults 10 years old and older: $100
We spend three times more in veterinary services than we collect in adoption fees. The average per dog is about $750. This amount does not include the room, food, evaluation, training, and especially the love that our volunteer foster homes provide - free of charge. So, our adoption fees cover only a small part of the expenses incurred in rehoming our Shelties. We rely heavily on donations and on fundraising events.
---
V. Frequently Asked Questions
Q: Do you have a shelter where I can see all the dogs you have available for adoption
?
A:
No. Each of our Shelties is placed in an appropriate foster home. Our foster homes are all over Virginia with a few in Maryland. You can see photos and descriptions of our dogs on the website page entitled, "Shelties Needing Homes." We cannot, however, arrange for you to meet a particular Sheltie until you have submitted an application, had your home visit, and been informed by the Adoption Coordinator that you have been approved to adopt.
Q: Where do the dogs come from that you take into your rescue organization?
A:
Most are surrendered by owners who can no longer care for them. Some are turned in by breeders who are leaving their businesses or retiring their breeding dogs. Some are shelter dogs that may have been strays or turned in by owners.
Q: How long will it take to adopt a Sheltie?
A:
Since NVSR is made up exclusively of volunteers, many with full time jobs and families in addition to their volunteer work, the process of reviewing applications, completing home visits, calling references, and communicating with foster providers can take several weeks. If your needs and preferences are very specific, finding a good match can take months. Sometimes a dog that looks like a perfect match for you has some medical or behavioral issues that must be addressed before adoption. (Scheduling and recovery from a simple spay, dewclaw removal and dental, for example, can delay adoption by several weeks.) Remember that we work with the dogs we get; we do not go out and "look for" a dog for you. The wait for a dog may be long, or it may be short, depending on what Shelties we have.
Q: I don't live in Virginia. Am I eligible to adopt a dog from NVSR?
A:
We prefer to adopt to applicants in Virginia and close-in areas of neighboring states (West Virginia, Maryland, Delaware, District of Columbia).
If you don't live in our area, you should look into a Sheltie rescue group that is closer to you. All of them are listed on the
website of the American Shetland Sheepdog Association
(click on "Rescue").
For our harder-to-place dogs, we will consider applicants farther away. A home visit can be arranged with a rescue organization near you.
You would have to travel to the dog's foster home to meet him/her.
Q: What if we adopt a dog and it just doesn't fit into our family for some reason?
A:
You can return the dog to NVSR during the two weeks after the adoption and receive a full refund of your adoption fee. After the initial two weeks, we will always take the dog back, but the adoption fee is not returned. If you cannot keep the dog for any reason, it must come back to NVSR.
Q: My family has never had a dog before. Would a Sheltie be a good "starter" dog for us?
A:
It depends. Please read up on the breed and on positive dog training first. Read our page about Shelties. A dog in the 4-8 year old range that is fully housetrained and leash trained, past the chewing and destructive stage, and with some basic training in good house manners would be best. We are careful to match "easy" dogs with inexperienced families. Our foster providers can provide plenty of advice to adoptive families throughout the dog's life, and we can recommend classes that educate both dog and handler.
Q: We really want a young dog that is no more than 2 or 3 years old, but we don't have a fenced yard. Would you place a young dog with us?
A:
We strongly favor families with securely fenced yards for young dogs, although certain young dogs are fine with only leash walking. Much depends on the dog's energy level and temperament and on the applicant's ability and willingness to provide exercise in other ways—as a jogging partner, in agility training, etc. Shelties need a LOT of exercise to stay healthy.
Q: Everyone in our house is away from home at least 7-8 hours every day. Do you have Shelties that might be right for us?
A:
Shelties need lots of mental and physical exercise, and they are usually very social. A dog in the 5-9 year old range with a low or moderate energy level would likely work best for you, assuming you can give the dog plenty of exercise and attention before and after work. An older dog could work well for you if you have a dog walker come in for a midday "out." Young dogs should not be left alone for long hours.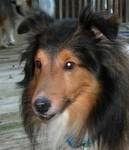 If you've gotten this far and would like to apply to adopt a Sheltie,
click here
for a Word version of the application. After you fill it out, save it to a file on your own computer, then attach it to a return e-mail to us. If you need to send it by regular mail, directions are on the bottom of the application. If you can't use the Word version, ask for an application to be sent to you by regular mail. Questions?
Click here
.
Return to top of page.
---