This page is about the Shelties we have in foster right now. They are available for adoption unless noted otherwise.
This page updated 10/18/18
---
Before you get too excited about one of our Shelties, please read
ALL
the information on our page
How to Adopt.
It will answer your questions about our process and expectations.
E-mail additional questions.
---
Louie

Here is a really nice boy looking for a loving home. Louie has the perfect Sheltie temperament! He's friendly, confident, playful, outgoing, loves people, gets along with dogs (probably cats, too), and is a trusting companion. He loves to be groomed and fussed over, and being with people is his very favorite thing.

Louie came to NVSR from a nice couple who live in an apartment. He had been with them for only a short time, having come there from his original home when his owner died. However, apartment life isn't right for Louie. He needs a quiet environment (without noisy traffic) and close proximity to the great outdoors. He'd be very content with long walks on quiet trails, so he doesn't absolutely need a fenced yard if he gets plenty of exercise. He would really enjoy a fenced yard in his new home, though—he loves to run and explore. He would also enjoy a canine buddy, but if his family has someone home most of the time, he would be fine as an only dog.

Louie's only health problem is an auto-immune condition called dermatomyositis, which is not contagious. It is usually seen only in collies and Shelties and causes bare patches of skin in areas where the fur is very short. In Louie's photos, you can see that he has a mild case, affecting a few areas on his face. Some of Louie's bare facial skin may eventually grow more fur, but we can't be sure of that. Because of this auto-immune condition, there are things that he will need for the rest of his life. One of these is a maintenance medication costing about $18-20 a month. It is important that Louie not spend much time in direct sun, which can cause the condition to be more active. He will also need monitoring of his diet, so he can keep his slim figure.




Louie's condition does not limit his physical abilities, and he loves a good long walk on a shady trail, in an area with little or no traffic. He can be reactive to cars and trucks, bicycles, runners, etc. (Think herding dog!!) He is very responsive to training, however, and his adopter must continue this training so that walks can be enjoyable for Louie and his handler.

Up-to-date on everything and with beautifully clean white teeth (he enjoys having them brushed), Louie is ready to charm someone who will appreciate his unique look and wonderful personality.

Two videos of Louie enjoying his foster backyard.

One. Two. Louie is ... 6 years old, 16" tall, and weighs 31 pounds. His adoption fee is $250.

​
---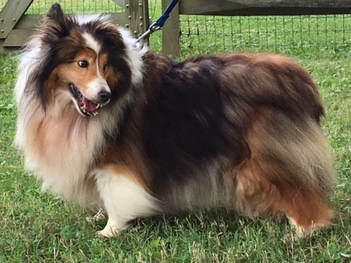 ​​Sadie
Little Sadie has a remarkably sweet temperament that has seen her through a long, painful journey to good health since she came to NVSR three months ago. This little girl now romps with her foster siblings, enjoys long walks with foster dad, and loves all the cuddling she gets from foster mom. She exhibits a luxurious mahogany sable coat that is now shiny and smooth.
​
What a dramatic change from her condition this past summer when she was transferred to NVSR along with three other dogs from a small rural shelter in southern Virginia! Sadie's foster parents welcomed a filthy, matted dog with rotten teeth, infected gums, and a body filled with parasites. She was intact and very overweight. Several baths and many hours of brushing were the first order of business.
​
Once her parasites were eliminated, the desperately needed dental was scheduled. Poor Sadie lost nearly all her teeth and had to learn to eat soft foods and grip her toys with her newly healed gums. This intrepid little dog came through the dental surgery with flying colors and was soon following foster parents and their resident dogs happily once more.

But the worst was yet to come. When her spay surgery took place, her doctor found evidence of mammary cancer. He removed the cancerous tumors with clean margins but suggested NVSR schedule a consultation with an oncologist to ensure the cancer had not spread and to provide advice regarding ongoing care. The oncologist took extensive x-rays and found no evidence of spread to other organs.

Sadie has now recovered from her cancer surgery and is ready to look for her forever home. She has been brought up to date on all tests and vaccinations. This adorable little dog could fit easily into many different homes. She loves people of all sizes and ages. Although she gets along very well with the seven Shelties in her foster home, she could be happy as an only dog that receives all the attention. She enjoys poking around a fenced yard, but she doesn't really need a fenced yard if she gets frequent walks to help keep her weight down. Sadie will bring lots of affection and loyalty to some lucky adopter.
​
Sadie is ... is 7 years old, 13 inches tall, and weighs 22 pounds. Her adoption fee is $250.
---
---
The following foster dogs are NOT YET AVAILABLE.
---
Four beautiful Shelties were relinquished to NVSR by an owner too ill to care for them: Jagar, Taz, Sadie, and Rozay. They had been living outside for several years and were very dirty and heavily matted when they came into rescue. Several NVSR volunteers spent days brushing and combing out mats, clipping long nails, and bathing this foursome.

Jagar and Taz have been adopted. Sadie (F-7 yo) has been spayed, and she had to have several of her mammary glands removed. She is recovering very nicely. Her biopsy results showed that the tissue removed was cancerous, but the surgeon believes she got all of it. We hope so! She is posted above, looking for her next home. Rozay (F-6yo) is heartworm positive. We started her treatment which will extend for at least two more months and require that she have very limited exercise. (Are you consistent with heartworm preventative for your dog? It is very important!) Fortunately, the other three are heartworm negative. Each of them had all except a few of their teeth extracted. They can eat without pain now. (Do you take care of your dog's teeth? You should!) We are not considering any applications for her until her treatment is complete - months away.