The last update on this page was 4/23/17.
Disregard the date at the top of this page. We are trying to get the header corrected.
---
Before you get too excited about one of our Shelties, please read
ALL
the information on our page
How to Adopt.
It will answer your questions about our process and expectations.
E-mail additional questions.
---
Shelties Ready for New Homes

---
Pepper

​

Beautiful Pepper is a tall, slender girl who loves people and enjoys being the center of attention. She walks well on a leash, and even more, she loves running in a big fenced yard off leash. Chasing tennis balls is one of her favorite activities and, along with brisk walks, is a good way to give her daily exercise.

Pepper has excellent house manners. She is reliably house trained and does not destroy anything when given free roam inside. Even though she loves active play outside, she is calm and well-behaved when in the house. Like most Shelties, Pepper is a "talker." She will bark when she wants attention from her humans or when anyone comes to the door, but she is not an excessive barker. Pepper is a little reserved with

strangers, but if introduced slowly and calmly, she will greet them politely. With her own humans, Pepper is very affectionate.

Because this pretty girl is a very social, people-oriented dog, she would not be happy in a home where she is left alone for long hours every day. She needs humans around. Pepper gets along with the eight Shelties in her foster home and enjoys running with them in their huge fenced yard. But these dogs are not substitutes for the human attention Pepper needs.

Pepper has had a thorough veterinary checkup and appropriate tests since she came into NVSR. She was kept up to date on all vaccinations by her former owner and was spayed a few years ago. Pepper is now ready to look for her forever home. A good-sized fenced yard is essential for Pepper. She is nervous around very young children who move quickly and squeal in high voices, but she is fine with older kids who know how to interact calmly with dogs. Her foster home has no cats, but we are sure that felines will trigger her herding and barking instincts, so no cats (sorry). She will be happiest in a home where someone is around much of the time and willing to play with her. She would be fine with another dog, but she could probably be quite content as the only dog where she could enjoy all the attention. This lovely dog came into rescue only because her family is being posted overseas and can't take her along. We promised to find her the wonderful new home she deserves.

Pepper is ... 8 years old, 19 1/2 inches tall, and weighs 40 pounds. Her adoption fee is $250.
---
Honey

Honey may look like an adorable little lapdog. But this is a girl that likes action. She is definitely not the kind of dog that is content to sleep at home all day while her humans are away at work for long hours. Honey thrives on lots of attention. She loves long walks, never seeming to tire in the company of bigger Shelties and long-legged humans. Her favorite game is "Chase me!" and she becomes very excited when a human or a dog shows any willingness to chase her—or be chased by her. Much to Honey's disappointment, her two canine foster sisters are not interested in this chase game in spite of Honey's persistent invitations to play.



This diminutive girl is housetrained, but she must be shown where the acceptable potty places are and praised when she does her business. She is also leash trained, but she will pull a bit when she gets excited about seeing an interesting dog or human on a walk. Honey loves children, especially ones who are old enough (over 7) to play with her and give her lots of attention. She's not very fond of brushing, but she tolerates it. This well-mannered little girl doesn't get up on furniture in her foster home and has not destroyed anything when given free roam. Although she loves to go to new places and meet new people, she is not a good car traveler; she will drool and sometimes get sick on long car trips. ​
​
Honey has been spayed and brought up to date on all tests and vaccinations. So she's ready to look for her forever home. She will be happiest in a home where there is lots of activity and plenty to keep her busy. She especially needs long walks to keep her in shape and allow her to see and sniff new things. And she needs humans who are willing to play with her and cuddle her. She would probably like a canine playmate that wasn't too big and that enjoyed playing chase. She is a confident little dog that tends to be a bit pushy with other dogs at times, so a canine friend that is relatively laid-back would be the best match. But if she gets plenty of human attention, she could probably be happy as an only dog. Affectionate and playful, this little dog is like having a puppy that has outgrown all the more troublesome traits of puppyhood.

​Honey is ... 5 years old, 13 inches tall, and 15 pounds. Her adoption fee is $250.
---
Bridget -- ADOPTED!!

​Although Bridget is not a Sheltie, (we think she is a Shepherd mix), her NVSR friends are helping to find her forever home. She is a dog who loves people and making new friends - human or canine. Bridget has a big bark when she sees strangers, but she is only asking them to come pet her! Her foster family says she is very smart, is anxious to please, and enjoys practicing "sit", "wait", "crate", and "heel." She can fetch, too! Bridget loves to learn new things and play games with people. She enjoys playing with another dog her size, but because she can be a little rough when she gets excited, small dogs and cats aren't the right playmates for her. Young children might be afraid of her because she is strong and might knock them down accidentally.

Running around a big fenced yard is one of Bridget's favorite things as long as people are with her. Her foster mom says she is a "velcro dog." But she doesn't have to be playing every minute. She is quiet and will rest at her humans' feet when it's time to settle down. She sleeps in a big crate and is quiet as a mouse all night long. This friendly girl loves to go for rides in the car as well as walks wearing her harness. She never chews anything she is not supposed to, but she loves her Kong Bone, especially with peanut butter stuffed inside.

---

Bridget has a good appetite but she tends to eat too fast, so she has a special slow-eat bowl so she won't gobble her food. As long as Bridget doesn't have to go too long without a potty break, you can count on her reliable housetraining. She's been brought up to date on all her vaccines and is ready for her new home.

As much as her foster family loves her and she loves them, Bridget wants a person of her own who will be around a lot. Could that be you?

Bridget is ... 5 years old, 40 pounds, and 19 inches tall. Her adoption fee is $250. ​
---
New Arrivals & Shelties "on hold" - The following dogs are not yet ready for placement.
If you ask about these dogs, please be aware that we are not considering adopters for them and may not yet know very much about them.
---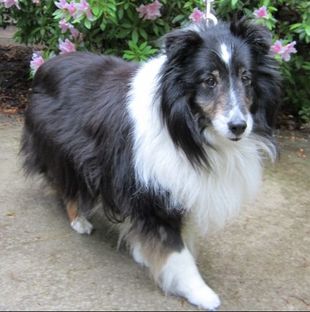 Zoe

Zoe's owner passed away and other family members were not able to care for her, and she's now come to NVSR to find a new home. She is a senior dog, and she's a very nice one - pretty, friendly, and affectionate. She's carrying extra pounds, so we'll work on that while she's in her foster home. We'll also take care of any vet needs she may have. Zoe will be looking for her forever home within a few weeks.

Zoe is ... 12 years old, 14.5 inches tall, and weighs 30 pounds.
---
---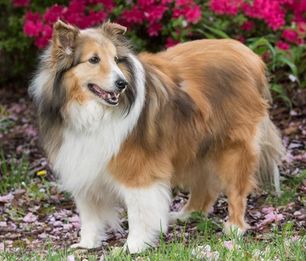 Charlie

Handsome Charlie came to us from his elderly owners who were moving into assisted living and could no longer care for him. He's settling in to his foster home where there is one other very accepting Sheltie boy and a nice yard to roam around in. Charlie needs some vetting to check on his current health, and he needs the right diet and lots of gentle exercise to help him shed his extra pounds. He'll get a good start on that in his foster home. We are happy to welcome him to NVSR.

Charlie is ... 8 years old, 18 inches tall, and 52 pounds.

---
---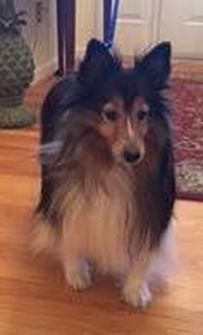 ​Chayah

Chayah (pronounced "Ky-ah") is a beautiful little girl who came in suffering with a huge bladder stone. We had that surgically removed right away. She also had a dental during her surgery, so her Sheltie smile is nice and white again. She is recovering, regaining her urinary continence and spunkiness. It's taking some time to get her continence back reliably, probably because she had bladder problems for so long. We're still working on this, and making some slow progress. Chayah has a lovely, people-oriented temperament. Her foster mom is a vet tech, so she's in very good hands during her recovery.

Chayah is ... 7 years old, 11 inches tall, and 14 pounds.
---
---