This page is about the Shelties we have in foster right now - some are available and some are not yet available.
Last update on this page was 11/30/17
---
Before you get too excited about one of our Shelties, please read
ALL
the information on our page
How to Adopt.
It will answer your questions about our process and expectations.
E-mail additional questions.
---
Shelties Ready for New Homes

---
Leia

Although Princess Leia just turned two, she is still very much a puppy in some ways. She absolutely adores toys of all kinds, but they must be sturdy ones because she will quickly destroy any toys that are not made of durable materials. She insists on carrying a ball or one of her favorite toys in her mouth on walks. All the neighbors love to watch Leia walking down the street carrying a foot-long toy in her mouth.

This beautiful girl loves to go for hikes and is tireless on long walks. Playing fetch in a big fenced yard is a good way to exercise her; she will chase a ball until your arm drops off. Despite her boundless energy outside, Leia knows how to be calm inside and will spend hours playing with her toys when her humans are busy. Leia is very affectionate and loves to be petted and cuddled. She is a little big to be a lapdog, but she will try to crawl in your lap if given any encouragement.

We know nothing of Leia's history, but we believe she is a Sheltie/Brittany Spaniel mix. Because she was in heat when she arrived at her foster home, she couldn't be spayed until a month after the heat cycle was over. This delay provided lots of time for her experienced foster mom to housetrain her and leash train her. Housetraining went well, and she does not have accidents in the house. Leash training was more of a challenge because this big pup was inclined to pull her human around the neighborhood in her excitement to greet people and other dogs. Patience, practice, and a special harness did the trick, however, and Leia is now an excellent leash walker with no more pulling.

Click here to watch her out for a walk with her foster mom.

Leia has been brought up to date on all tests and vaccinations and given a professional dental cleaning. Now that she is fully recovered from her recent spay, she is ready to look for her forever home.

Because Leia loves to play fetch and run full out, she needs a home with a large yard that has a secure fence. Since she is

very interested in deer, squirrels, and other animals, she will need to be supervised at first when in the fenced yard to
ensure she doesn't try to jump the fence if she sees something she wants to chase. So far, she has never tried to climb or jump the fence in her foster home, but she isn't left there unsupervised.

Leia needs an active home with humans who enjoy outdoor activities that can include her. She loves children and would really like a family with kids old enough to play with her. Because she still tends to jump up on people sometimes, she isn't a good match for a family with small children who could be knocked over by her eager greetings. Cats and small dogs are not in her future since she tends to consider all small animals in the same category as squirrels that need to be chased. A large canine companion might be welcome if the dog is not a dominant personality that tried to push her around.

Most of all, Leia needs humans who will commit to enrolling her in a good obedience course. She needs to learn a good recall, how to greet humans more calmly, and other useful commands. Once she has obedience training mastered, she would be a wonderful candidate for agility, nose work, and other dog sports. This sweet dog is smart and loves to learn.​

Leia is ... 2 years old, 21" tall, and weighs 40 pounds. Her adoption fee is $350. ​
---
Cali

Pretty Cali is a very loving, playful girl who craves human attention. Her foster mom notes that, "Cali will worm her way under my arm until she is in my lap, looking for an ear rub or belly scratch." She is an exuberant fetch player and loves to run full out to retrieve a ball. This young girl loves to go for walks and will set a fast pace for her human companion.

Cali has excellent house manners and never has accidents in the house. She doesn't destroy items when given free roam inside, but she does like to get up on the sofa and cuddle with her humans. The one problem she has displayed during her two weeks in foster care is some separation anxiety when left alone. She will bark at first and then move into a brief howl if no human responds. Her foster parents have noted that this anxiety is gradually disappearing as she comes to understand her new humans will always return. Cali will also alarm bark if she thinks she sees a stranger approaching "her" territory, even if what she saw was just a reflection in the window. She is not an excessive barker, however.

Cali has been spayed and brought up to date on all tests and vaccinations. NVSR funded a professional dental cleaning for her. Because she recently gave birth to puppies, her coat is a little sparse at this point. But now that her breeding days are

over and she is on a more nutritious diet, her coat will come in thicker and shinier. Our vet gave her a clean bill of health, but he noted that she needs to lose some weight. Plenty of exercise and a strict diet will solve that problem.

This lovely sable girl is now ready to look for her forever home. She needs a home with a large fenced yard where she can run full out. She also needs an active human who is willing to play plenty of fetch with her and take her for long walks. Because of her craving for human attention and her separation anxiety, she would be happiest in a home where someone is home much of the time. Cali would not be content in a situation where she was left alone for long hours every day while her humans were away at work.

Because Cali tends to become somewhat jealous when others are getting the loving she wants, we do not feel she is a good match for a family with children. For that same reason, we think Cali would be perfectly happy as the only dog getting all her humans' attention. She has a somewhat dominant personality and would expect to be the boss if there were other canines around. She seems to tolerate the cats in her foster home with no problems since they don't actively compete for the foster parents' attention.

For a lucky adopter, Cali will be a very loyal and loving companion. Once she settles into her forever home, a good obedience course will enhance her socialization and help keep her safe.

Note: Cali was turned in with Sam (below). She has been with Sam all her life and the two dogs get along well with Cali the dominant member of the pair. NVSR would be happy to place these two dogs together if a suitable adopter applies. Their foster parents believe that the two dogs could also adjust to separate adoptive homes, however.

Cali is ...14 inches tall, weighs 35 pounds, and is 4 years old. Her adoption fee is $250.

---
Sam

Sam is a very affectionate, laid-back guy who could fit easily into many different homes. This handsome mahogany sable loves to have his ears rubbed and is in heaven when given a full body massage. He gives kisses to show his appreciation for any cuddling from his humans. Sam enjoys long walks at a brisk pace and games of catch with his little stuffed balls. He is fascinated by toys with squeakers, but unfortunately, he thinks the main objective is to remove the squeaker from each of them.

Sam has excellent house manners and never has accidents in the house. He does like to get up on the sofa with his humans, but he's content to sleep in his crate at night. When given free roam inside, he does not destroy items in the house (except for those tempting squeakers). He will follow his humans from room to room, but he's careful not to get underfoot. Sam is definitely an easy keeper.

This big guy has been neutered and brought up to date on all tests and vaccinations. He also boasts shiny white teeth after the professional dental cleaning NVSR funded for him. His vet pronounced him to be in excellent health apart from his weight. He needs to lose about eight or ten pounds and is now on a strict diet and exercise regimen in his foster home. His coat was dry and flaky with a great deal of undercoat that needed to be removed when he came into foster care. Medicated baths by his foster parents are helping his skin and he is learning to tolerate brushing of his coat and brushing of his teeth on a regular basis.

Sam is now ready to look for his forever home. He needs a large fenced yard and humans who will give him plenty of


exercise to help him lose weight. While there are no children in his foster home, we think he would be fine with older kids who would play ball with him. He is fine with other dogs, but cats are a problem. He eyes the cat in his foster home with a steady stare that suggests he would love to chase her if his foster parents weren't supervising. Most of all, Sam needs warm and loving humans who will give him the affection he loves and spend plenty of time playing with him and walking him.

Sam is ... 18 inches tall, weighs 42 pounds, and is 8 years old. His adoption fee is $250.

Note: Sam was turned in with Cali (above). Sam enjoys playing with Cali and gets along well with her. Cali is the dominant member of the pair. NVSR would be happy to place these two dogs together if a suitable adopter applies. Their foster parents believe that the two dogs could also adjust to separate adoptive homes, however.
---
New Arrivals & Shelties "on hold" - The following dogs are not yet ready for placement.
If you ask about these dogs, please be aware that we are not yet considering adopters for them and may not know very much about them yet.
---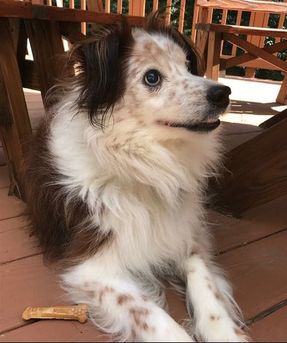 Reggie -- Adoption Pending!

Reggie is a lucky guy - his foster mom has fallen in love with him, and she's going to adopt him. He knows his way around the house, and is used to the routine there - and she loves him! Couldn't be better!

​Reggie arrived at NVSR from a family who were moving and sadly could not keep him. Although he's blind, he quickly figured out the furniture arrangement in his foster home. He loves children and is a very friendly, mellow boy. He is settling in and learning his new yard and walking paths. We think he's mostly Sheltie with something else mixed in, probably border collie - he's a handsome boy.
Update 9/14/17: Reggie has a serious problem with one of his ears. It is completely closed with infection and polyps. We have scheduled surgery for October 17th to help open that ear, but he will most likely be deaf in that ear afterward. But, he'll be much more comfortable.
Update 10/18/17: We consulted with a vet surgeon about Reggie's ears, and he said that surgery is not indicated to open up his ears. We will consult with a veterinary dermatologist to find out if there is some relief there for his itching.

Reggie is ... 8 years old, 19" tall, and weighs 35 pounds.
---
---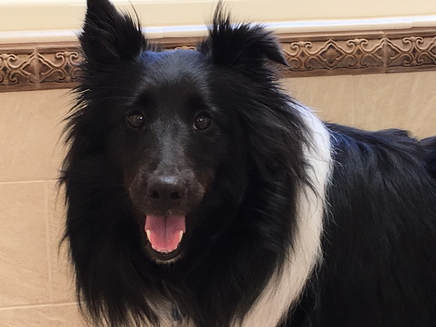 Brandy

Brandy is a beautiful little bi-black with some challenging behavioral problems we are addressing. She spent her young life with one owner who was unable to give her much socialization. She tends to bond quickly with one human but exhibits fear aggression toward anyone else who comes into the house. In her last home, she learned that growling fiercely makes scary things go away. Brandy has no experience with other dogs or cats, but the young Sheltie in her foster home is modeling appropriate behavior. Brandy has no medical problems, but she will not be available until her foster parents have found ways to help her cope with the many things that trigger her fearful behavior.

Brandy is ...2 years old, 14" tall, and weighs 30 pounds.
---
---