This page is about the Shelties we have in foster right now - some are available and some are not yet available.
Last update on this page was 10/14/17
---
Before you get too excited about one of our Shelties, please read
ALL
the information on our page
How to Adopt.
It will answer your questions about our process and expectations.
E-mail additional questions.
---
Shelties Ready for New Homes

---
Leia

Although Princess Leia just turned two, she is still very much a puppy—a big, strong, very athletic puppy. Leia is very affectionate and loves to be petted, but she will try to crawl in your lap if given any encouragement. She loves toys of all kinds, but they must be very sturdy ones because she will quickly destroy any toys that are not made of durable materials. She insists on carrying a ball or one of her favorite toys in her mouth on walks. Chasing a ball is a good way to exercise her and she is just learning to bring the ball back. This beautiful girl loves to go for hikes and is absolutely tireless on long walks.

We know nothing of Leia's history, but we believe she is a Sheltie/Brittany Spaniel mix. Because she was in heat when she arrived at her foster home, she couldn't be spayed until a month after the heat cycle was over. This delay provided lots of time for her foster mom to housetrain and leash train her. Housetraining went well, but leash training was a challenge with this big strong pup who was inclined to pull her human around the neighborhood in her excitement to greet people and other dogs. Patience, practice, and a special harness did the trick, however, and Leia is now an excellent leash walker with no more pulling. H

ere's a video of Leia walking with her foster mom.

Leia has been brought up to date on all tests and vaccinations and given a professional dental cleaning. She needs a week or so to recover from her recent spay and then she will be ready to look for her forever home.

Because Leia is so strong and athletic, she needs a home with a large yard that has a fairly high fence. Since she is very interested in deer, squirrels, and other animals, she will need to be supervised when in the fenced yard to ensure she doesn't try to jump the fence if she sees something she considers prey.

Leia needs an active home with humans who enjoy outdoor activities that can include her. She loves children and would really like a family with kids old enough to play with her. Because she still tends to jump up on people, however, she wouldn't be a good match for a family with small children who could be knocked over by her eager greetings. Cats and small dogs are probably not in her future since she tends to consider all small animals in the same category as squirrels that need to be chased. A large canine companion might be acceptable if the dog is not a dominant personality.

Most of all, Leia needs humans who will commit to enrolling her in a good obedience course. She needs to learn a good recall, how to greet humans calmly, and the full set of basic commands. Once she has obedience training mastered, she would be a wonderful candidate for agility, nose work, and other dog sports.

Leia is ... 2 years old, 21" tall, and weighs 40 pounds. Her adoption fee is $350. ​
---
New Arrivals & Shelties "on hold" - The following dogs are not yet ready for placement.
If you ask about these dogs, please be aware that we are not yet considering adopters for them and may not know very much about them yet.
---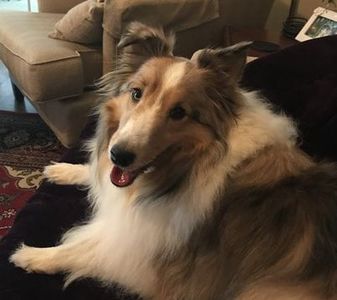 ​Chloe

This lovely girl came to NVSR from a family who was moving and could not take her along. We're just getting to know her so we can decide where she'll fit the best. We will prepare a complete bio for Chloe when she's ready for placement. We do know already that Chloe will need a fenced yard. She's an active youngster who needs frequent trips outdoors to play, run, and let her energy out.

Chloe is ... 16" tall, weighs 33 pounds, and is 3 years old.
---
---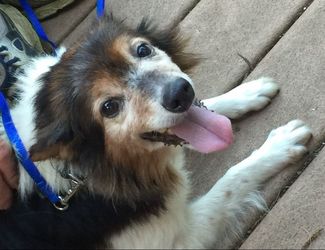 Momma

This little stray needed us, and though she isn't a purebred Sheltie, she does have enough in her for us to take her in. The shelter Momma came from was a noisy, scary place, and she was frightened there. In her loving foster home, she is already emerging as a very people-oriented dog who just wants some kindness and attention. She's had another good bath and a thorough grooming, and has gotten needed vet attention. She will be a really nice little dog for an adopter who loves these lonely seniors.

Momma is ... 13 inches tall, weighs 17 pounds, and is about 11 years old.
---
---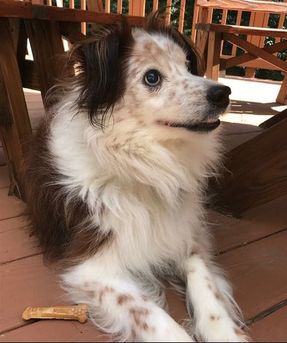 Reggie

Reggie arrived at NVSR from a family who were moving and sadly could not keep him. Although he's blind, he quickly figured out the furniture arrangement in his foster home. He loves children and is a very friendly, mellow boy. He is settling in and learning his new yard and walking paths. We think he's mostly Sheltie with something else mixed in, probably border collie - he's a handsome boy.
Update 9/14/17: Reggie has a serious problem with one of his ears. It is completely closed with infection and polyps. We have scheduled surgery for October 17th to help open that ear, but he will most likely be deaf in that ear afterward. But, he'll be much more comfortable. This is expensive surgery, so if you'd like to help with the expense, we'd appreciate it.

Reggie is ... 8 years old, 19" tall, and weighs 35 pounds.
---
---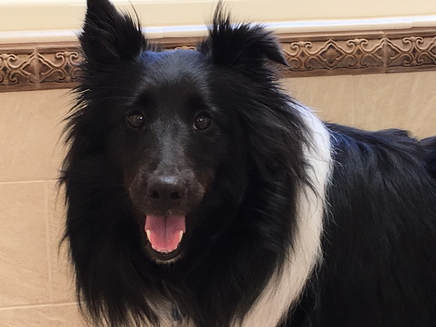 Brandy

Brandy is a beautiful little bi-black with some challenging behavioral problems we need to address. She spent her young life with one owner who was unable to give her much socialization. She tends to bond quickly with one human but exhibits fear aggression toward anyone else who comes into the house. In her last home, she learned that growling fiercely makes scary things go away. Brandy has no experience with other dogs or cats, but the young Sheltie in her foster home is modeling appropriate behavior. Brandy has no medical problems, but she will not be available until her foster parents have found ways to help her cope with the many things that trigger her fearful behavior.

Brandy is ...2 years old, 14" tall, and weighs 30 pounds.
---
---