Happy Tails!
Here are stories about "our" adopted Shelties. We especially love those written by the Shelties themselves. (They are SO smart!) Send your stories and photos to shepherd@nvsr.org, and we'll include them. This is page one of "Happy Tails." Be sure to read our other "Happy Tails" pages for lots of earlier stories.
---
Brody

Mike and I couldn't be any happier to have Brody in our family. He truly is the perfect dog. Although I know it was devastating for him to lose his family, our family has truly been blessed. He tells us wonderful stories and sings to us every day. When we did an obedience class, the instructor told the class Brody was "smarter than everyone in the room." As we finished one of the individual activities in the class, another participant commented, "Overachiever!" Brody had completed the activity perfectly, with no assistance from me.

Whenever we go away, "Aunt Tuck" keeps Brody so he has a vacation there as well. As far as he's concerned, that is his second home. Tuck has been so much support and help. We have done many fun "doggy adventures."

Thank you for the great work you do. Hope your new year is full of wonderful Shelties and great adoptions. -- Lonnie and Michael O'Baugh

[Brody was adopted in November 2015 when he was 6 years old.]
​Posted January 2018
---
Daisy

Daisy is doing great! She continues to be very food and treat motivated but in a pleasant surprise, she's become very toy motivated as well. At first, she didn't seem to enjoy playing with toys as much as our Maya, but now she delights in chasing a ball or shaking a squirrel toy and chewing a squeaker. She gets along great with Maya. They chase each other around our front yard and wrestle in the living room. Maya has lost weight with the new activity so they weigh almost the same now. People ask if they are sisters (though Maya is very different--corgi and Australian cattle dog).

This year we've added a baby girl to our family, our first child. Daisy is just so precious and delicate with Clara. Daisy gently sniffs her and licks her toes. When the baby cries, Daisy comes running to get me and lies at my feet when I'm feeding her. I think they'll have a really special bond growing up. Daisy had a special treat this year with a week at my parents' house which sits on four acres of property. She was able to really run around and stretch her legs. We are looking to move in 2018, in part to get a bigger yard for the dogs. Daisy has really made a lot of progress since we adopted her. She used to be hesitant and sometimes fearful around new people coming into the house. Now she cozies right up to them and rolls over for belly rubs.

A huge thanks to NVSR for bringing Daisy into our lives and best wishes for 2018! -- Lena Gerber & Mike Lynch

[Daisy was adopted in January 2015 when she was 2 years old.] Posted January 2018

---
Katie

Hi, everybodee, it's me Katie! It's been a long time and I wanted to say hello to all my NVSR friends!

We lost big sister Dakota in the Spring. (Our beloved Dakota became very frail at 14. She passed on gently from old age.) It was confusing and sad. Riley and I were unhappy for awhile. But Muttmom and Dogdad knew what to do. And now my life is pawfect again! I'm so healthy it is hard to believe I'm eleventy years old. (Muttmom here: She's 11. Sorry, we were watching The Hobbit.)

My brother Riley and I have lots of fun. Dad is retired now and we hang out together all day. We went camping this year, too. I was nervous about the tent at first. But boy did I love hiking in the woods! It was pawsome! I was so well behaved the Rangers made me an official Bark Ranger! Here's a picture of me with my ranger garb on.

At home I am still a fast runner. I tree squirrels as fast as Riley! (Muttmom says: If I see her turn around one more time with squirrel tail fur in her mouth...)

Thank you again, NVSR, for helping me find the bestest furever home! Wuf, Katie Sample

P.S. Don't be fooled by that extreme closeup photo with the sad eyes. She was begging for food.

[Katie was adopted in April 2014 when she was 8 years old.] Posted November 2017
---
Delilah

Delilah is doing just fine and, yes, she is enjoying the cool weather here in Georgia. She and her tiny sister Danielle have become quite close, while Duncan continues to play the role as their protector. Delilah still is the most shy of the three dogs and the most loving dog that we have ever experienced, given the situation that she came from. We are so glad that she chose us, and please pass on our appreciation for all that the NVSR does for these wonderful dogs. -- Julie and Mark Medley

[Delilah was adopted in February 2012 when she was 5 years old.] Posted November 2017


---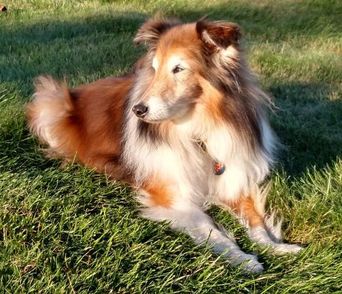 Dusty

Yup, it's me, Dusty! Sweet sixteen and loving life! Had a bit of a scare 10 months ago when I was diagnosed with melanoma. Mom and Dad took me to an oncologist in Philadelphia, and I had two surgeries, followed by five melanoma vaccines ( . . . isn't it cool we dogs can get a vaccine for melanoma and humans can't?) and I have been declared cancer free! Unfortunately they don't have a similar vaccine for arthritis but with cold laser about every two weeks I manage to stay fairly mobile - am still able to make it up and down stairs although jumping up on the couch or Mom and Dad's bed is a little much. Small price to pay! Dad and I walk a mile or more each day ( . . . maybe a little slower than I used to) and every dog, car, bike, or person we pass gets a good bark or two or sixteen!

Like every year since I have lived with them, Mom and Dad took me to the lake in Michigan for about five months this summer. I really love my time there - gives me something new to bark at - chipmunks, squirrels, turkeys, deer, coyotes - even a bobcat. Scared every one of them away! They better not mess with me! Am back in Pennsylvania for the winter but looking forward to going back to the lake next summer. One of the great things about being a dog is you don't know you're going to die and so you just keep going! Here's a picture my Dad took this afternoon by the pond. Love, Dusty Alton

[Dusty was adopted in April 2010 when he was 8 years old.] Posted November 2017
---
---

Indy

Indy is doing great. She is the charmer of the neighborhood. Indy is just a wonderful cuddler, loves to chase her tennis ball, goes wild with delight when her boy gets home from school. We took her to obedience training more to document that she had such training than anything else - she is very well behaved and very responsive to commands. She was the star of that class. All is well and we really appreciate that you all found Indy for us. -- Pam and Robert

[Indy was adopted in June 2016 when she was 9 years old.]
Posted September 2017
---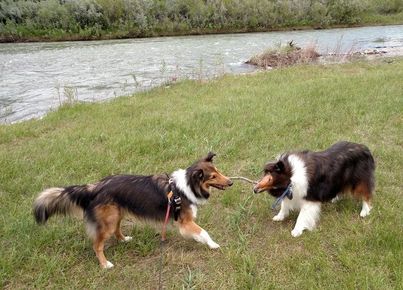 Max

I have just returned from a month long trip with the two dogs (Max and my 10yo Sheltie, Duke) and my travel trailer to a simply wonderful location in Dubois, Wyoming. Both dogs were super travelers and were amazing during the 6-day trip out west and back! And they really enjoyed the cool dry weather and chances for hikes and long walks!

After being restricted to leash in various campgrounds for the trip out, they were thrilled to have a fenced romping area in the RV park where I parked for two weeks. Max could do some zooming and fetching, and Duke could try to keep up with him. They are both in very good shape right now! The dogs were a hit in the campground and had lots of fellow campers just watching them play! Unfortunately, we are back in the heat and humidity of Florida again. Max had ample chances to be around motorcycles in the campground, and I am thrilled to say that he finally has gotten over his adversity to them!

Max definitely seems to love his forever home - and Duke and I love him! This is the first time that Duke has had a playmate which has energized him for sure! I'm already planning my next trip back to Dubois! Can't wait and neither can Duke or Max. -- Rebecca Wilson

Note from NVSR: Max's original name was Montana - get it?? Montana in Wyoming! He was adopted in August 2016 when he was two years old. Posted 9/2017.
---
---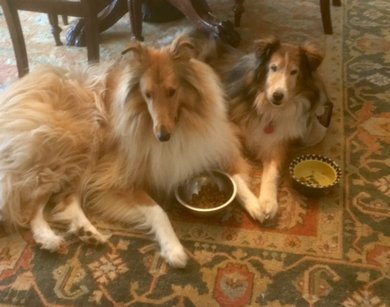 Ginger

Ginger turned 16 the end of December 2016. She is definitely a senior citizen but very much a big part of our life. Mentally she is still very alert, she knows what's going on and what she wants to do - or not do. She eats well, never has any accidents, goes to the door to go out and to the water dish when she wants a drink. The main problem for her is getting up. If she's on a rug she usually can manage it but on floors it is very hard. Once up she walks, but slowly and carefully. She really wants to be with us and will follow me around the house and look for me if she can't find me. At first I felt guilty about this, but I now feel it is good exercise for her. Her younger brother, Eph, a two year old collie, is her special companion. I think Eph feels Ginger is his mother or at least a family member. He loves to sit next to her, really close. Eph's playmate is 10 year old Wilbur but his comfort companion seems to be Ginger. I've said before what a good mother Ginger has been all these years. She has taken in various puppies and kitties and many grandchildren. I wasn't sure if she could also manage Eph at such an old age but the two are real companions. We don't know how much longer she can be with us but we treasure every day we have her here.

All the best to you and NVSR. You gave us the most wonderful gift, our sweet Ginger. -- Madeleine Arnheim

[Ginger was adopted in January 2002 when she was a pup of 11 months.] Posted June 2017

Sadly, Ginger died right after this report came in. She is very much missed after living with her family for most of her long life.

---
---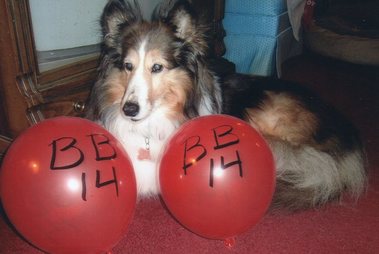 Bridgette

Bridgette celebrated her 14th birthday and our 10 year adoption anniversary in April. My, how time has flown by. She loves to be next to her companion Chase who also turned 14 earlier this year. She loves to sit on the couch at night and watch TV with us. She also likes getting her teeth brushed because she knows at the end she gets a squirt of the poultry toothpaste. -- Ellen Scuderi

[Bridgette was adopted in April 2007 when she was 3 years old.] Posted May 2017


---
---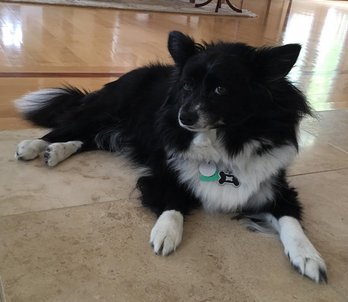 Robbie

Robbie is doing fine, though he had a bout of pancreatitis last fall which, fortunately, happened while he was being boarded during our trip to Scotland and Norway. We normally board him at a vet clinic just in case something goes awry, and it finally did. At "7-ish," he's still perky and likes to run around the property, though his muzzle is starting to gray a bit.

We're now full time in Maine since the farm sold in mid-June. The new owners took over our 19 pet Scottish Highland cows, but we went back after the sale to pick up four of them. We are renting pasture and winter quarters for them at a farm not far from here. Regards, Dennis Haarsager

[Robbie was adopted in April 2012 when he was 2 years old.] Posted April 2017


---
---
Bear

Bear is doing great. Life got a little busy, but our little guy is still trucking, and continues to bring so much joy to Steve and me. He turned 15 last October, and although he isn't QUITE as spry as he used to be, he is just as smart and personable as ever, and the promise of a "pack walk" with all three of us still puts a spring in his step. Last year was an eventful one for us, consumed by a political campaign for Arlington County Board. Bear has really taken a shine to public life out and around Arlington. Attached are photos of him getting ready for 4th of July neighborhood events, and helping me cut the ribbon at Arlington's "Walk for the Animals" event back in the spring.

We think often of NVSR and how grateful we are to you for bringing Bear into our lives. We can't imagine life without him! We weren't able to attend the picnic, but we were there with our fellow Sheltie families in spirit. Thank you, as always, for all that NVSR does for pups and families like us. Best wishes, Katie Cristol

[Bear was adopted in September 2011 when he was about 10 years old.] Posted April 2017


---
Delilah

Hello! We are glad that you continue to follow up on Delilah and we were sorry to miss the picnic. Here is an update on Delilah this year: before we left Georgia, in March, for our summer travels, Delilah and Duncan became big sister and brother to Danielle. We thought she was a puppy but it turned out that she was approximately 3 years old, 9 lbs, and in need of several medical procedures. As Danielle was healing from being spayed, teeth cleaned, etc., I was grooming Delilah and found a large, sandy feeling lump on her belly. It was quite a scary find because the lump was not moving at all. Her vet advised us that Delilah should have the lump removed, so it would not spread. We were able to get Delilah in for the surgery quite fast. Her large lump was completely removed and then diagnosed as benign (thankfully). Delilah had no complications and she healing awesomely. Danielle was still healing alongside Delilah, while Duncan continued to watch over them both. Before we departed for the summer, we made sure that both were cleared by the vet as completely healed. Everyone traveled fine and we decided to see Glacier National Park for awhile and then the Poudre Canyon in Colorado.

We were all in North Dakota until the end of October, and then we returned to Georgia for the winter. Mark is a foreman during the beet harvest, I work on quilts, and the dogs love taking long walks in the park every day. Here are a few pictures of them relaxing together. We thought Delilah looked adorable trying to fit in Danielle's bed. They don't care who is in whose bed, and at night they are all in our bed anyhow! Thank you again for all that you and the volunteers do for the Shelties. We are all blessed to have them come into our lives. Take care and best always, Julie and Mark Medley

[Delilah was adopted in February 2012 when she was 5 years old.] Posted April 2017

---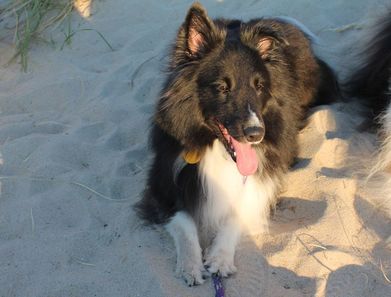 Maggie

Maggie is doing absolutely fantastic! She's a very healthy, beautiful and active girl. Yes, she still loves agility! Since we lost our only male Sheltie last August, she has taken over as the top dog in the household. Maggie and our other dog Paige are very tight buddies. They are pretty much inseparable! Maggie loves her family and we love her. She is especially fond of her daddy and will rush from wherever she is to welcome Jamie home! Last September, Maggie was at the SSCGB Sheltie-only Agility trial the day of the picnic. Sorry we could not make it. I saw Maggie's Aunt Martha at the Blue Ridge trial last December.

Attached is a photo of Maggie from our beach trip to the Outer Banks last summer. It was way too hot down there this summer, so beach walks with the dogs were very limited. I should have some nice photos of her from last weekend's trial. I will send you a copy once they are available for purchase.

We thank NVSR for giving us the privilege to have such a wonderful Sheltie like Maggie. She fits into our family so perfectly, and we love her more than words can ever describe! Thank you, Donna and NVSR!! -- Nancy and Jamie Schrumpf

[Maggie was adopted in October 2011 when she was 1 year old.] Posted March 2017


---
---
Jack Frost

Things are going pretty well. Mommy made it into vet tech school and has been doing really well, but it takes up a lot of her time. We got a new four-legged family member last year, also. His name is Tippi (a Yorkie) and used to belong to Mommy's Grandma. We took him in after she passed. Tippi sure is lucky that he is cute because he is not nearly as smart as a Sheltie, which is new for Mommy and Dad to get used to. He's good company but can be a little annoying, and I sometimes pretend he doesn't exist. But we get along well. Mommy and I went on a trip alone (we left the "grumpy old men" at home) to go see our besties' (Mommy's best friend and her two Corgis, my best friends) new house in North Carolina. The best part was spending special time alone with Mommy. I was hoping for a lot of snow last winter, but not to be; I loved all the snow we had the year before. That's my name, after all! Jack-Frost Hall

[Jack Frost was adopted in December 2010 when he was 3 years old.] Posted March 2017


---
Lil' Maggie

Dear Friends at Northern Virginia Sheltie Rescue~~ It's me, Lil' Maggie! Happy New Year!! And it was indeed a happy 2016 for me. I turned 4 on December 28th. My family adopted me last January, and it's been a happy whirlwind of fun and love. I discovered I love to travel with my sister Ruby and Mom & Dad. We're heading to Florida in March for the whole month!! Mom & Dad rented a house with a fenced yard so Ruby & I will have plenty of room to run and play (and of course "do our business"). At home, Ruby and I love to spend time on our front porch when the weather is nice, greeting friends as they walk by. I love it when Mom swings with me in our swing...it usually lulls me to sleep. I get lots of cuddles from Mom & Dad, and Ruby & I enjoy playing with each other and our toys. I love our walks around our neighborhood! Ruby and I get "oohs & aahs" from all the friends we pass. We walk along the boardwalk and enjoy watching seagulls and sailboats, and if we're lucky we might get to see a dolphin or two jumping the waves.

Thank you, NVSR, for helping me find my forever home. And a special thanks to Aunt Lisa who loved and cared for me before my adoption and helped me learn to socialize with other dogs and people. I hope you find forever, loving homes for all the Shelties in 2017 as you did for me!! Lots of Love~Lil' Maggie Keeney

[Lil' Maggie was adopted in January 2016 when she was 3 years old.] Posted March 2017
---
Reese

Reese is an incredible dog. He still loves squeaky toys, walks and just hanging out. He is probably the smartest dog I have had so far but also very trustworthy in that I can leave him and give him full run of the house when I'm out. He's great traveling, and at the moment we are at my beach house where he is right at home. He is still very wary of just about everyone and is very slow to warm up to visitors, especially men. But he's a good little watch dog. He is curled at my feet as I write. He is featured in the 2017 Sheltie calendar. All best wishes, Judy and Reese Gruner

[Reese was adopted in June 2016 when he was 7 years old.] Posted March 2017

---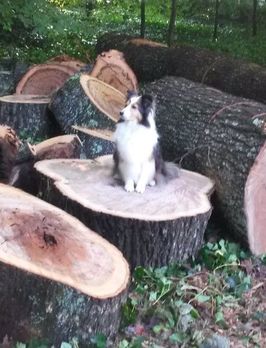 ​Blu

All's well here with our best boy, Blu. We didn't get any real "fun" snow, maybe an inch or so – we were on the line with mostly sleet, but it sure is cold and windy! I was done with winter, but Mother Nature had something else in mind. We feed the birds in our backyard, and Blu enjoys keeping the squirrels out of the seed, getting his daily exercise. He's coming up on his 12th birthday in June and has slowed down some. He's a bit hard of hearing, too, which requires more hand signals, unless we're eating something. Here's a picture of Blu guarding our back yard. -- Mark & Nancy Ballas

[Blu was adopted in January 2007 when he was one year old.] Posted March 2017


---
---
Chloe

Our loving little Chloe girl turns 13 this year. She still remains the apple of our eye. She takes care of us as much as we take care of her. But we are all getting a little older with our aches and pains, so we keep each other going. Her health is good, has a little arthritis in the hip area but managing. Now at night she stands at the staircase waiting to get carried up to the next level so she can stay close to me. It's so cute. She has learned to relax and take the lift. Then she just wags her tail all the way down the hall. It's too funny. We have enjoyed communicating with you through the years sharing doggie stories. We wish you all the best, and Chloe does too.

Happy Spring, Kimberly & Colley Siciliano

[Chloe was adopted in December 2006 when she was just one year old.] Posted March 2017

---
Lacy

It has been a year since I was adopted, and a what a good year it has been! I get plenty of walks (we keep them short on the real hot days) and even though I just turned 11, we play everyday. Mommy brushes my hair and my teeth every day; the hair I love, the teeth not so much. They have been working with me on my barking, but Daddy says that sometimes I just get too excited! I went to the vet last week, and she said I'm a real healthy 11 year old. Here's a photo of me at the top of the steps, waiting for Daddy to get his work clothes off and come pet me. It's his job!! -- Lacy

[Lacy was adopted in July 2015 when she was 9 years old. ] Posted March 2017
---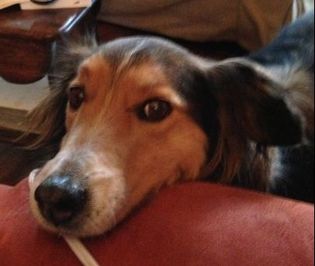 Fiona

So nice to hear from you!! Our little guinea pig died last week, and Fiona was out of sorts for several days but we are slowly recovering and getting back to normal. Fiona and Cori are the lights of my life. I try not to dwell on how much they're aging and just enjoy every precious minute. Fiona limps quite a bit but loves massage and still loves everything about life!! She wants me to send her love️. Thanks as always for checking on her. -- Lani Sanders

[Fiona was adopted in September 2004 when she was 8 months old.] Posted March 2017

---
---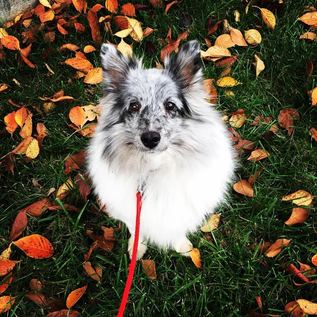 Juliet

Juliet is doing well, our Senior Sheltie Princess at 14! We really can't believe it - the time just flies! She is doing well for a senior girl. She has some arthritis, but still gets around and is a little hard of hearing and has trouble with her peripheral vision but still loves attention! She sometimes needs help with the stairs but some days can do it on her own. Our oldest daughter got married a few months ago and lives close by, and Juliet gets so excited whenever she is here! She did well with her last grooming appointment and is such a pretty pup! She sleeps during the day in her favorite spot upstairs and then hangs out in the den with us in the evenings - sometimes she's sleeping but she gets lots of attention. She still loves the back yard and barking at the squirrels and delivery drivers in the street. We are lucky to have every day with her - senior dogs are the best! She is a great dog and family member! -- Wendy Illig

[Juliet was adopted in March 2003 when she was 6 months old.] Posted March 2017
---
---
Cody

Hello, all you wonderful folks at NVSR -- Thanks for asking about me. I can't believe a year has gone by already! It was a year filled with fun, exciting travels, with me pampered with love and care! My favorite Vet Cardiologist is amazed that I am doing so well, what with my age, now 14, and beset with moderate to severe heart problems! I attribute it to my parents vigilant watch over my medications, good nutrition, regulated short walks, and faithful vet visits!

My sister Sumi (NVSR 2012 adoptee) and I get along well, as I just ignore her when she gets too rowdy and loud! We look forward to attending the NVSR picnic every year.

I will always be grateful to NVSR for placing me in my "furever" home with the Duffys and making my golden years truly GOLDEN! Warm paw hugs and barks -- Cody Duffy

[Cody was adopted in August 2015 when he was about 14 years old.]
​Posted March 2017

We report with sadness that Cody died of old age in May, 2017. He is very much missed.

---
Angel

Here's an average day for our beautiful little Angel ... The day usually starts about 6:30 to 7 AM. Used to be 5:30, but now that I am retired she lets us sleep in a little. Her day usually starts with her licking my face to wake me up followed by a small bark which gets louder until I get up. When Mom goes to work in the morning, Angel watches her leave from her perch on top of the love seat looking out window till she is gone. When weather provides a good day, Angel and I go for a walk. She loves going for walks, and after I get her ready she goes in circles around me crying while I get my shoes on. She is very good going on walks!

When Angel hears my phone ring (her Mom's song), she starts crying until Mom comes home once again, perched in the front window looking for her mommy. When Alice comes in the door, Angel greets her and wants hugs and kisses. After supper time Angel wants to play. She hops around the floor like a bunny for me to chase her on my hands and knees. After she has had enough she rolls over on her back for a tummy rub. Never knew a dog that loves tummy rubs as much as Angel does! After snuggling up to both of us at night she lets us know when SHE is ready to go to bed and barks to let us know her wishes. After we go to bed she licks my face for a while and then settles down next to Alice or at the end of the bed till morning comes and she starts our day all over again!

Angel brings us so much joy and love. She is such a loving little Angel!!! Thank you for our little Angel. -- Ed and Alice Nicklas

[Angel was adopted in September 2012 when she was 2 years old.] Posted March 2017

---
Imus

Hi, NVSR! I am sorry I missed writing lately, it was not by intent. You know how a dog can get distracted by play, birds, and just general keeping the masters in line!!! I have had a great year and especially enjoyed the warmth of summer on my joints. My only health issue is some hip pain for which the vet has prescribed Dasuquin. I may be slow to get up and down, but once going I am quick as ever! (Not that I was ever that quick).

I am a very calm dog now. I wonder if you would know me. I not only allow head rubs, but will come seek them out by putting my head under your hand. You know I would not tolerate that in the beginning and did not like any rubbing,combing or patting on my head of back. Actually I am off to the groomer today. I always get "A's" on my report card. They love me :-)

Here are some selfies so you can see how handsome I am!!! Life is good and I can tell that everyday I make my master and mistress very happy!! They love me and I love them. Affff, Arfff -- Imus Webb

[Imus was adopted in October 2012 when he was 6 years old.] Posted March 2017

We report with sadness that Imus died of old age in July 2017. His family misses him very much.

---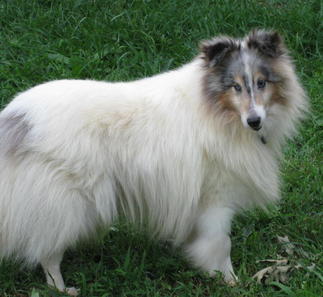 Lucky Cloud

We have had Lucky for more than four years, and he continues to amaze us. He's now 13 but people think he's a puppy. When we travel we have stayed at pet friendly hotels, and he travels extremely well in his travel crate regardless of the vehicle we take him in. He has been on many family vacations and to many hot rod shows. He doesn't get excited about anything except that when he comes in from outside, he dances in circles. Lucky is perfect for us, an older retired couple who can be with him all day to attend to his needs. He has a 14 year old kitty friend, Missy, and they get along very well. Kitty lies by his crate and even herds him, which she learned from the last Sheltie we had. hey can be seen hanging around together walking down the hall, and they are very rarely out of each others sight.

​We could not even imagine how much joy a little dog like Lucky Cloud would bring to us. The thought of adopting an older dog with challenges was a little intimidating at first, but Lucky is so smart he got into a routine very quickly. He has enriched our lives, and we hope we have done the same for him! -- Chuck, Paula & Lucky Cloud Roberts

[Lucky Cloud was adopted in July 2012 when he was 8 years old.] Posted March 2017
---
---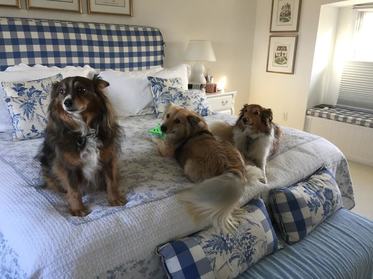 Cody

This is Cody, ignoring his two rescue sisters. He is a pistol when he warns strangers to stay away from his home, then very shy when they come in. He is one happy guy and always has a big smile. He has had some medical rough patches. He has a non-diagnosed auto-immune disorder, normally easily handled, but in September of 2015, he spent six days in intensive care. With very careful care and an imaginative drug regimen, he quickly regained his health. It took a couple of years, but with the help of our little rescue Sheltie, he learned that kids are great for cuddling and now is delighted when our grandchildren show up. We adore the little guy. -- Fredda Pennock

[Cody was adopted in December 2012 when he was 4-5 years old.]
​Posted March 2017
---
---
Toby

Hi, all my NVSR friends!

I can't believe it's been more than six months since I met my new forever family. I'm comfortable and happy in my new home. I do still LOVE my girl the best! Some days I can't even finish my breakfast, so I love to run upstairs and jump in bed with her. I am liking and asking for attention from my dad and mom now. That Dad, he likes to brush me and I'm not too crazy about that. We went to the beach, and as you can see, we had fun. That's me again waiting on my girl to open my present from Santa. My new favorite toy! Best wishes til next time, Toby Kostrzebski

[Toby was adopted in June 2016 when he was 3 years old.] Posted March 2017

---
Ben

Hi, just checking in with my friends at NVSR. I'm in Arizona right now, and will be heading home to the Northern Neck of Virginia in May. Last summer was great! My friend Sally from the big city of Raleigh came to visit me for a month. She followed me around, ate when I ate, and went out to play in the yard with me; although it was mostly her running around like crazy, and me watching her from a safe distance. She just isn't used to a big fenced yard. She likes me so much she spent New Year's Eve with me, too.

In November, Mom and Dad noticed I was limping. So they took me to see my doctor who took pictures and said I had something called arthritis in my leg. Well, Mom wasn't happy with that, so when we got to AZ, my AZ doctor took more pictures and said I have arthritis in my back which causes my limp. So I am taking warm massages with a laser. I lovvvvve them, and my limp seems to be going away. See me in my Snoopy goggles getting my treatment. Mom says I look like I am getting ready to fight the Red Baron. I am also taking a really good treat called Phycox. I am a tough guy so hopefully it will be a long time before I need any medicine. I'm sure when I am back in Virginia, I can still make Dad run with me so I can chase the deer and squirrels. I don't seem to have any limp when I see a squirrel.

Well, just wanted to update everyone and say hello. -- Ben Mittner

[Ben was adopted in September 2012 when he was about 3 years old.] Posted March 2017

---
KellerWe adopted Keller in summer 2013, a darling little deaf puppy. Then, we adopted Ariel, another cute little pup two years ago to be a buddy for him. She's all grown up, and Keller and she are inseparable. Needless to say, she's the one who rules the roost, but she's also unbelievably doting and caring of both her brothers. She's also Keller's guidedog. No matter which corner of the house or yard he's exploring, all we have to do is ask Ariel to go get him. It's very funny. She understands he is deaf. So she will run up to him and paw him to follow. And if Keller is asleep, she sneaks up to him and delivers a point blank ear-piercing shriek. She never makes that sound, except when she wants to wake him up. I think she's enjoys startling him. Here's a video of Keller playing with Ariel.

As for Keller, he remains the wonderful innocent pup you gave us. Every day is uniquely filled with fun and adventure. He loves butt and tummy rubs. Recently he's become more intimate. He's always wanted to stay close, but never excessively. Of late however, he's going to sleep on my lap rather than by my feet. A small change but a most welcome one. -- All the best, Emanuel & Susan Guerreiro

[Keller was adopted in August 2013 when he was 7 weeks old. He was cast off from a breeder just because he was deaf.] Posted March 2017
---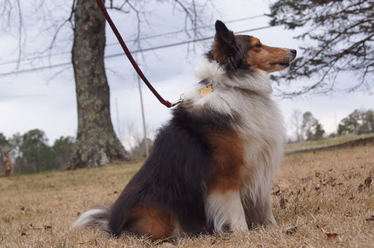 Bailey

Bailey is so precious to us! She is nearly always by my side (or Dennis's). She gets 2 or 3 walks daily and just loves her outside time. I'm no poet when it comes to expressing myself, but she brings me a lot of joy and I hope I do her! Sometimes she gets so happy and excited her tail actually "wags" in a circle - not sure I've ever seen another dog do that! She loves to have her her belly rubbed!! I even found a mug which says "belly rubber." My daughter's girls are now 3, 5, and 7, and they love her and she seems to love them. She voluntarily gets up on the couch with them.

Thank you again for your trust in bringing her to us! The Sunday before last it was so nice out we took the dogs for a walk down by the James River. Apparently most of Richmond had the same idea. She had a good long walk then. We got her out last Sunday as well to a park up in Ashland. Thank you again and I hope we get to see you at the Sheltie picnic. -- Randa Mayfield and Dennis Sollars

[Bailey was adopted in June 2015 when she was 6 years old.] Posted February 2017
---
---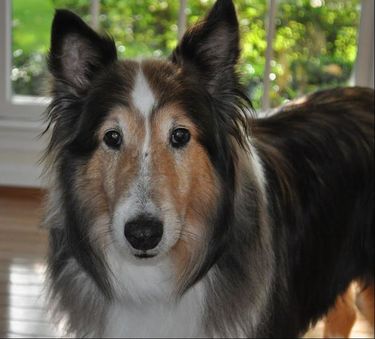 Riley
Riley is doing great, but slowing down. He had cancer once again this year -- two mast cell tumors; thankfully, everything is clear and he is in good shape. As with last time, he was a trooper throughout it all. He's one of the most gentle dogs I know, and I wish for him that life had been kinder to him along the way.

He does get into mischief and is very clever, yet it often comes back to bite him. He managed to pull a can of ground coffee off my kitchen counter this spring while I was running errands -- he ate the grounds (all of them). Fortunately, it was decaf and he was fine other than stomach upset for a day, remarkably. We are very vigilant with him and try to make sure nothing is reachable that could be a target -- he keeps us busy that way. We live on the fourth floor now, so the Riley appreciates the elevator. Thanks for reaching out and checking on our boy. -- Catherine Grossman

[Riley was adopted in May 2011 when he was 6-8 years old. He was a stray who found a great new life.] Posted February 2017



---
---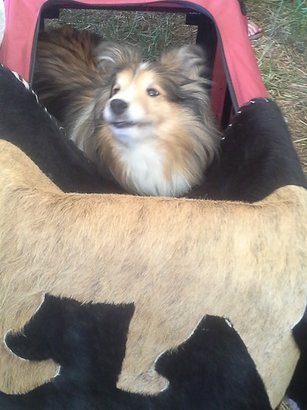 Jilly

Jilly Girl here. I just want to tell you things are great here, except for Miss Kitty. She loves to rub up on both Pep and me and neither of us particularly care for that! I do have a special friend here, Jessie. She is old and a Pointer but I love her. I love to sniff the middle of her back and wag my tail. Sometimes I bark and give her a Sheltie bow, too. She doesn't play with me but that is okay - I still love her.

I love to go to these shows where lots of people come into our booth and talk about how nice Pepper and I are. Well of course, what did they expect? They ask how much for the Shelties and Mom says we are priceless. She got that right! She tells people about the rescue. I like all the attention everyone pays to me. I do my best to lie right in the middle of the booth ... I mean, wouldn't you rather look at me than a bunch of old stuff? Mom keeps moving me over. How is everyone going to pay attention to me when she does that? Folks ask how old I am. When mom tells them, they all say I don't show my age. That is because I stay so active. Mom says my hearing is not as good as it was, but neither is hers! Really, such a thing to say.

When we are not traveling, we sometimes get to visit with "Grandchildren." The girls are nice but my special friend is Andy. He loves me and says that I am his dog. He wants to have lots of dogs but his mom and dad say just one. He is a real nice boy and gives gentle pets and sometimes plays vet with me. The last time he came to visit, he and Claire made a tent fort and invited me to stay in it with them and all the Barbies. The Barbies were on something called vacation.

So, as you can see, I am doing well and am very happy. I even occasionally bark at Pepper while he is playing ball, and he uses me as a pillow when we travel in the car. That is all from me for now. Thank you, Aunt Tuck, for finding me such a fun home. Now here is Pepper. I have to warn you he is a dog of few words, not eloquent like I am. -- Jilly Roo Jackson

Jilly was adopted in January 2012 when she was 9 years old. Posted February 2017
---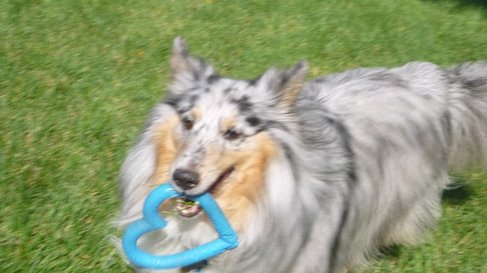 Pepper Man

Pepper Man here. I get lots of pets and fetches in my home. Is there anything else? Granddaughter Claire isn't too bad. She plays lots of fetch. Bubba, the other dog, plays chase with me when I have the ball. What more is there? Oh, there is a pesky cat. If you could do something with her, this place would be perfect.

Catch ya later. (like that fetch inference?) -- Pepper Man Jackson

Pepper Man was adopted in March 2013 when he was 3 years old. Posted February 2017
---
---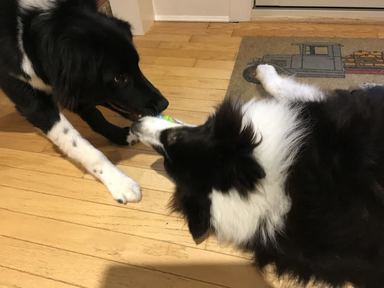 Oreo

Hello to my NVSR family! I am doing great! I had a wonderful 11th birthday. I am starting to look my age, getting a little grey around the eyes. No RV yet, but Mom and Dad are still searching for just the right one. For my birthday, my parents found an abandoned puppy down the hollow in Bolt, West Virginia, and brought him home. His name is Bolt, and he is a Border Collie/Australian Shepherd mix. You talk about a handful! Bolt is 6 months old. He follows me everywhere! He lies right on me. I tell him be aware of my personal space but he doesn't listen. My parents say he is keeping me young especially when they see me chase him around. He loves it when I chase him. I still love chasing the cows on the other side of the fence and chasing the bunnies around the yard. My age isn't slowing me down!

My mom and dad still cuddle and kiss me all over. You should see Bolt's face when I am getting my special lovin'! My grandparents haven't stopped spoiling me with treats and all of their love. I am a very lucky Sheltie. Mom and dad say they are the lucky ones! Thanks for checking in on me! All my love to my fellow Shelties! -- Oreo Withrow

[Oreo was adopted in September 2011 when he was 5 years old.] Posted February 2017
---
---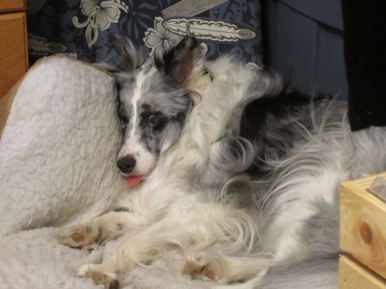 Tallie

Hello, NVSR friends! I am happy to report that I have become royalty. I am now known throughout the land as a "Bi-Blue Merle with Heterochromia." When I asked Mom what that was she said it means I have black, white and gray as my main colors and that I have one blue eye and one brown eye. Also I am designated the "Official Dog Vacuum Cleaner." I am told by Mom and Dad that this is a great honor. It's because I like to pick up anything and everything and chew on it. I must tell you I am very selective, I only chew and eat the really disgusting things like Mom's tissues that I found in the trash can! Mom likes to growl at me when I do this; since she is talking "dog" I know she is imparting a special communication to me. Also the other funny play I like to do is to smear my face with the dirty clothes. Oh they really like that one.
We are still having a heck of a time together. My doctor told Mom that my chunky belly was not too bad. However Mom started me on a great new dog food ... I am now eating a diet kibble! Yeah! And when Mom feeds the cats she always reminds me not to eat the kitty food; now why would she say this to me everyday? I am one of the smartest dogs in the world, I remember everything! I remember when Dad takes me out to "doodle" that he likes to do this quickly. And when Mom takes me out I like to smell every tree, all my old smelly places, every cat, all the flowers, etc., before I do my duties. And I remember that when they sit down to watch TV, I can go from Mom to Dad to get face scritches and belly rubs as much as I ask for!

Mom tells me I am one of the brightest and most beautiful dogs in the world, Dad calls me "dibby dooby" and "frickle free" and other funny names. By the way, I sure liked my time with my foster Mom and Dad, however I love my Mom and Dad more than anything, sometimes more than eating, and Mom tells me that's saying a lot! Toodles friends! --Tallie Crouch

[Tallie was adopted in August 2012 when she was 1 1/2 years old.] Posted February 2017
---
---
Harry & Sam

​Harry and Sam are happy and healthy, having just turned 10 years old in January and February. "The boys," as they're affectionately called by family and friends, are active, playful and loving. Our vet says it's always a pleasure to see them because they are in great shape for their age. In these stressful years of being in the middle of caring for aging parents and helping our kids with the grandkids, Harry and Sam are a source of peace and comfort to us. Sam has shown the most interest in our granddaughter Emily now 3 1/2. He loves when she's playing on the floor and he can get up close to see what she's up to and get some attention. Harry prefers to watch her from a distance but is always patient when she shows him attention and affection. Emily has learned to be gentle and calm with the boys. Emily is getting a baby brother in May and so we will start the cycle again of introducing the boys to the baby and teaching him to be kind and gentle with them.

We have had some snow this winter, and Sam & Harry love to be out in the middle of it. No matter how much space we clear for them in the yard, Sam manages to find the deepest snow and likes to stick his face into it. Harry and Sam choosing us as their forever family was one of the best things to ever happen to us. Our best wishes to you and all those at NVSR for good health and happiness in the New Year. -- Sincerely, Patti & Howard Balbi

[Harry and Sam were adopted in October 2007 when they were six months old.] Posted February 2017
---
---
Reese

Reese is a happy sweet little guy and has adjusted well. He's learned to go up and down stairs, loves to ride in the car, loves the back yard, and best of all is my buddy. However he is still afraid of most people, especially men. He's Mr. Perfect being left at home for several hours, although when I know I'll be gone all day I take him to my friend who's a dog sitter. He does great both with her and the other dogs there. He seems healthy, has a good appetite, and is by far the smartest dog I've ever had. Hope his picture makes the annual Sheltie calendar. -- Judy Gruner and Reese.

[Reese was adopted in June 2016 when he was 7 years old.] Posted February 2017




---
---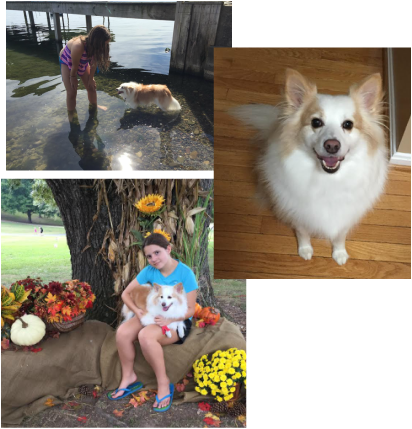 Toby

Hi, NVSR Friends, I love my new forever home. It's great! Thanks to my foster mom, Cindy, I have a great new home with a family who loves me. I gets lots of walks, treats, and a nice yard. My new people are all so nice, but I LOVE the little girl Grace the best! I follow her everywhere and I even get to sleep in her bedroom!

We drove really far to Seneca Lake, New York, two times this summer. I was busy the whole time watching blue herons, ducks, bunnies, and woodchucks. No barking or chasing, just watching. I met some new dog friends there. Can you believe they swim in the lake? I did put my paws in.

My new family and I came to the NVSR picnic and had a fun time. I think I was a little nervous riding in car, because I threw-up on my girl. Can you believe that? Eight hours riding to NY, no problem. One hour to Fredericksburg, not so good. We all got cleaned up, showing up a little late for the party. My Mom said "no worries." I love my new people! Best wishes, Toby Kostrzebski

Toby was adopted in June 2016 when he was 3 years old. Posted December 2016
---
---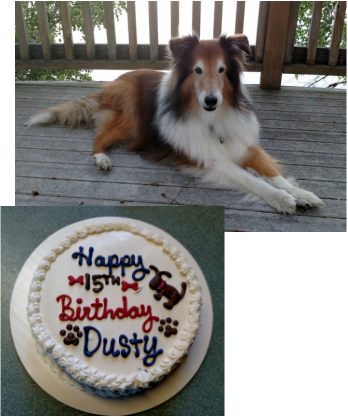 Dusty

Dear NVSR Shepherd - It was SO good to hear from you! You are the only person who ever sends me an e-mail, so it is a BIG event when it arrives!

Wow, who would ever think I could live to be 15! And although a little gray around the muzzle and a little "arfritis," I am doing pretty well! As you can see, Mom and Dad gave me a special birthday cake. I shared it with my next door neighbor, Deuce, and with my friends Scout and Madison who live down the road. We all thought it was pretty tasty.

It's been more than six years since I came to live with Christie and Bruce, and I sure do thank you for finding them for me. With a home in Pennsylvania and another in Michigan, I have a change of scenery twice a year. In Pennsylvania, I can look out my front door at a large park and bark at every dog, person, or car that comes into view. It keeps me VERY busy. It's what Shelties do, you know! In Michigan I live on a beautiful lake and (. . . when I am not napping, which I do more as I grow older) bark at squirrels, chipmunks, and deer. Although those deer are much larger than I am, only one bark and they scamper away.

My life has been made far more comfortable by the great veterinary care Mom and Dad provide for me. They joke they have spent far more on medical care for me than they ever did for their human child! Class 3 cold laser treatments every other week have kept me moving right along!

Thanks so very much for being in touch. Please send my thanks to all those good people who work so very hard at NVSR to match guys like me with folks like Mom and Dad! Love, Dusty Alton

Dusty was adopted in April 2010 when he was 8 years old. Posted December 2016
---
---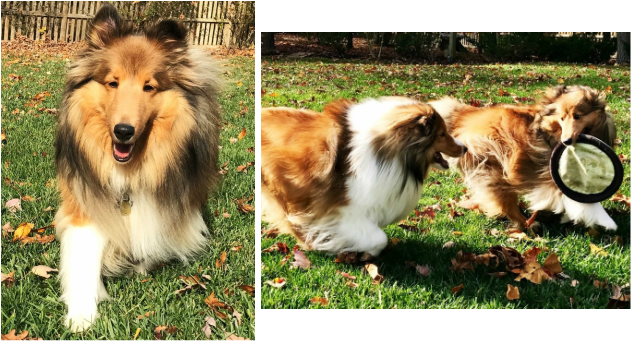 Scotty

Hi to all the wonderful volunteers at NVSR! It is time for me to check in and tell you about how my life is going. Mom says I will be three on my next birthday, but I say I'm still a puppy! (Puppies get away with a lot more stuff.) My Sheltie brothers, Andy and Tucker, and I have a full schedule every single day. Andy is the oldest, so he gives orders and supervises, but Tucker is only 5 months older than I am, and we get into trouble all day long. Mom and Dad just sigh and call us "the twins," although Tucker is fatter than I am. So there, Tucker!

We are glad that summer is over 'cuz we really love fall weather. We go for walks every day and play in the leaves and enjoy the cool air. We have a big yard so Tucker and I play both soccer and frisbee. I can move the ball as fast as I can run, steering it anywhere I want to go. Sometimes when no one wants to play, I will go out and play soccer all by myself. My dad even made a video of me playing soccer by myself in the snow. He says I am very smart! (Cute too!)

We are sure looking forward to Thanksgiving and Christmas! The house is cozy and warm and full of good smells like turkey and pumpkin pie. We also get lots of presents! Mom says I must have more toys than any dog in America. I love all my toys and carry them all over the house and outside too, so they can watch me play. Sometimes, if they are a little dog, lamb, etc., I make sure they are standing upright. That always amazes my parents. I make them laugh a lot. I like that! My dad says I have a bit of an ego problem, whatever that means. Mom says I just have confidence and a great personality. Mom is always right!

Almost every day, I ask my parents for a little Sheltie sister to play with. Dad says when you've got three Shelties, what's one more, but Mom just laughs and looks at us like we are nuts. So I don't know when that will happen. Oh well, in the meantime my two Sheltie brothers are barking for me to come outside, so I must sign off and go play for the rest of this beautiful day!

Take care of yourselves and thank you for all that you do for all the other Shelties. You gave this little Sheltie a very happy life! Your friend, Scotty Thorson

Scotty was adopted in November 2014 when he was 12 weeks old! Posted December 2016
---
---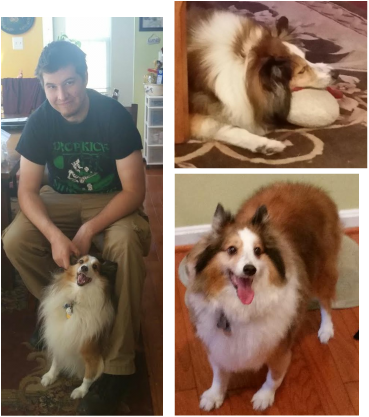 ​Darby

Darby still a sweet gentle soul after all these years. Most of the time he likes to cuddle up and snooze. He still gives us lots of love and is a favorite of my oldest son, Marshall, who is away at college. Whenever he comes home, Darby is sooo excited to see him and acts like a puppy again and finds that extra burst of energy and just plays, plays, plays!

He's an older dog now - we guess around 11-12 people years old - and has come down with arthritis. He has to take his time getting up and down stairs these days, but don't we all. Thank you for sending us Darby. -- Pam and Scott Grimard

Darby was adopted in September 2007 when he was 2 years old.
Posted December 2016
---
---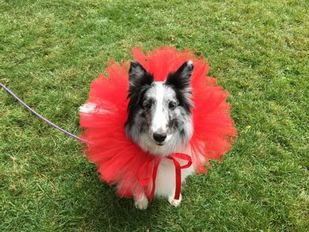 Mariah

Mariah is still doing great. It's hard to believe she'll be 12 years old in January. We just had her teeth cleaned again, but otherwise she's remarkably healthy. She has slowed down a little bit, but she can still find energy to play for a few minutes when she wants to! Here's a picture of Mariah being very patient with us when we wondered how she would look with a frilly collar. -- Susan and Keith Moffatt

Mariah was adopted in June 2011 when she was 6 years old. Posted December 2016

---